---
---
---
---
Get the tee shirts and other stuff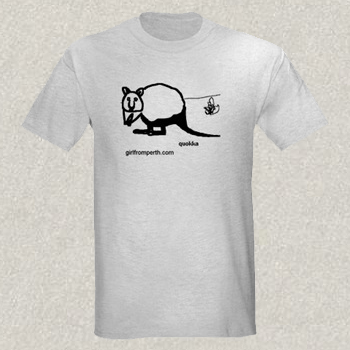 Visit our cafe press store to buy other Girl From Perth accessories.
---
Cuke Press presents the audiobook for To Find the Girl from Perth. Hi. I'm David Chadwick. I wrote To Find the Girl from Perth and narrated it back in 2009. The audiobook contains twenty-eight songs, many scaled down from the way they are in the album, Songs for To Find the Girl from Perth Redux, available on one of my artist pages on YouTube, Spotify, Apple Music, Deezer, and Amazon. Did a good deal of cleanup on the audiobook and album and they were remastered this year 2022 by Tude Arte Sedana at his Kubuku Studio Bali here in Sanur. The print book has 45 little black and white illustrations, one of them of the Indiana Tea House. Thus that marvelous structure isn't described at all. So, to make up for that, here's a smidgen from an article titled "'Iconic' Indiana Teahouse added to WA heritage register" in architecture au dot com "Built in 1996 … the restaurant was based on the Centenary Pavilion which graced the site from 1929 to 1983 and was intended to be reminiscent of the early British colonial architectural style."
In addition to the print book, the Kindle, the audiobook, and the album of songs, there's Color Dreams for To Find the Girl from Perth, with full page color illustrations by Andrew Atkeison opposite selected lines from the book - one for each chapter.
I'd like to thank Paul Speir for his tireless work in originally publishing these books and recently converting them into Cuke Press books and redoing the Kindle of To Find the Girl from Perth to include the illustrations. And for doing the cover for this audiobook.
Go to girlfromperth.com to read or listen to the fascinating acknowledgments and learn how this book came to be, to see the illustrations, access the songs, credits for the musicians - Bill Seidel on Harmonica, Ethan Okamura guest guitar on a couple of cuts, Ryan Madden on a bunch of bass, Clay Chadwick on drums, Katrinka McKay—car horn and backup vocal, Lisa Clark on violin and backup vocal, Mario Warren additional drum, background vocal, a good deal of remedial engineering and mixing, David Chadwick —guitar, vocal, and all else
Also at girlfromperth.com one can see what else I've been up to in publishing books and audiobooks, music, and a vast amount on the web.
As of this date I've done two other audiobooks. Crooked Cucumber: the Life and Zen Teaching of Shunryu Suzuki and Thank You and OK!: an American Zen Failure in Japan, both Shambhala Publications.
So you can check that all out at girlfromperth.com
But now let's fall into the spell of To Find the Girl from Perth.
---