---
Cuke Press presents
The, the Book
book one in the Article Series

by David Chadwick
Originally published at "The" by Chavid Dadwick
but now the author's name has been revealed to be a pseudonym for
the actual author, shocking the public.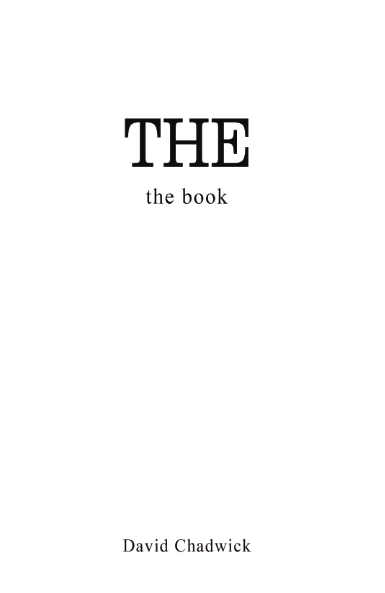 THE is great -- have you seen Rory MacBeth's Alphabetical Bible? or the minimal poems of Aram Saroyan? Two of my favorites which this reminds me of. I dig the austerity of the book as well, from the cover to the type. Oh, also check out Craig Dworkin's PARSE. Blow your mind. - Kenneth Goldsmith - (wikipedia page for Kenneth Goldmith)
****
Best book -the book , It is your THE, the book. Picked it up on Amazon. Note: Had a problem With All The BIG WORDS. SAW it a few years back when it was in the" HUNDREDS" - Russell Smoll
---
The, the Book is a novelty focusing on one word with a hidden message.
Bookmark which went with the gift hardbacks
The dedication
The
epigraph
ISBN-13: 978-1-7322877-5-4
80 pages
$7
at local indie bookstore | on Amazon
Distributed by Ingram Books
Dust Jacket layout for the 2011 hardback
The 2011 copyright page
As an Amazon Associate I earn from qualifying purchases.
---
a project of cuke-annex
---